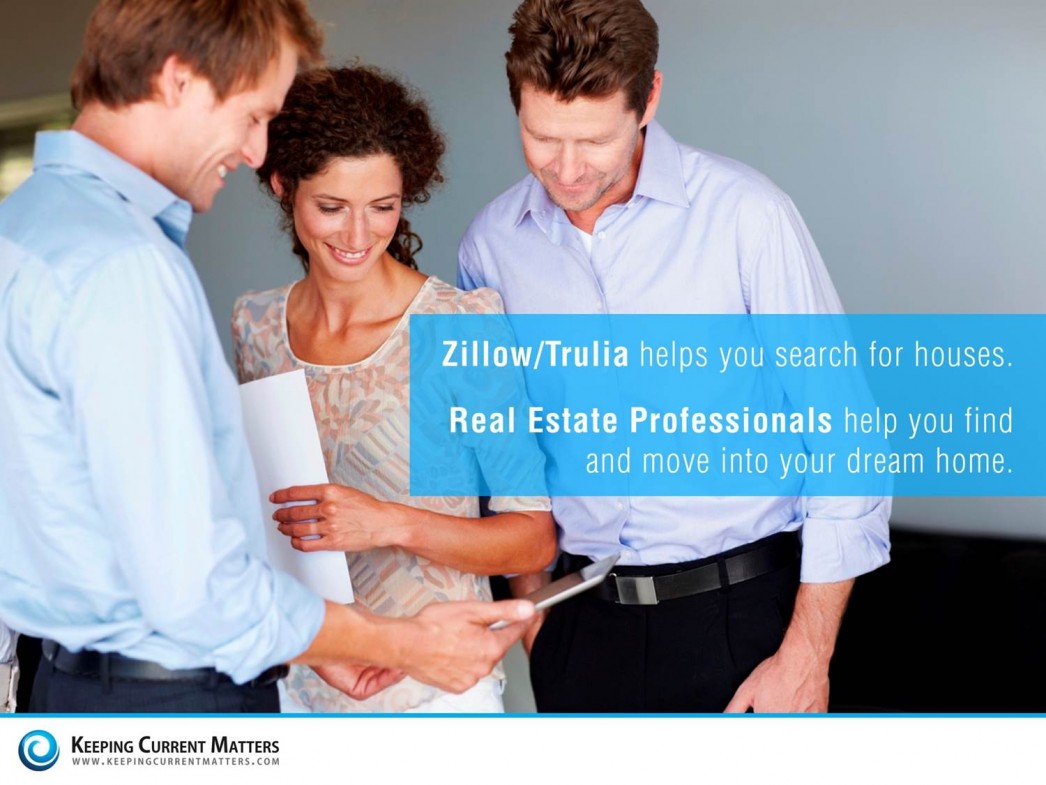 .
Guest blogger this week! Check out this post on the resurgence of real estate agent importance by Keeping Current Matters Steve Harney.
When Zillow announced the acquisition of Trulia some industry experts were predicting the end of the real estate business as we know it. They used words like "checkmate" and "kill shot". Though we agreed that aspects of the industry were forced to evolve perhaps quicker than they had hoped, we believed this will be an evolution…not a revolution. Guess what? We were right.
THE EVOLUTION
Companies and agents needed to massage the way they do business. Marc Davison, the co-founder of 1000WATT Consulting, put it best when he explained that companies needed to:
"…focus on brand marketing, content marketing, data-driven advertising and other more intelligent means of engaging homebuyers and sellers."
Sites like Zillow/Trulia give the consumer the dots (data) of real estate. Like Davison, we believed the consumer needed the real estate professional to 'connect those dots'.
I did not have to go far to find anecdotal evidence proving this happend. I just needed to look at my own family.
Massapequa, New York
Five years ago, my older son and his wife bought their first home. They found that home on Zillow and told their agent, "this is the home we'd like to live in". The agent helped them decide on a target price. She helped them negotiate that price with the seller. She found the industry professionals they needed and coordinated the inspections, the walk-throughs and the appraisal. She helped them work with an attorney and a mortgage professional.
She was their agent and represented them throughout the entire purchasing process. She made sure that they were confident and comfortable at every stage.
They found the house online; that was the easy part. They needed an agent to help them with the hard part: actually getting the house without headaches or stress. My son and his wife truly believe she was worth every penny of her commission.
South Beach, Miami
Two years ago, my wife and I were thinking about buying a winter residence in South Beach. Every day, my wife searched the listing portals for condos for sale. We got a really good feel for South Beach and even picked out a few buildings we liked. However, even though I have been in the industry for over 30 years, we called a real estate agent who specialized in South Beach.
She explained to us how the fiscal responsibility of each building's board would impact future "special assessments" (something we hadn't even considered). She explained how proposed new construction might impact the ocean views of certain properties. She helped us find the perfect spot and guided us through the entire buying process.
The nights my wife and I spend eating dinner on our balcony overlooking the ocean would not have been possible without our agent.
Meadville, Pennsylvania
Just this month, my younger son got his dream job; coaching women's basketball at the collegiate level. It required him to relocate out of state. He needed a twelve month rental. He searched Zillow, Trulia and Craig's List. He got a feel for the types of units available and the rental costs. But when it came down to it, a local real estate agent named Vic Kress found my son a great place in a sensational building in a perfect location. My son is signing the lease today.
Just the other day, when someone questioned my son on how difficult it was to find a place so far away in such a short period of time, he answered:
"I have a guy down there that is looking out for me."
That's what real estate professionals do. They 'look out for' their customers and help them through the process.
BOTTOM LINE

Technology has definitely given consumers easier access to information about the housing industry.
However, we believe that buyers and sellers need more than just information. They need an analysis of how that information impacts their family. Every family should feel confident when buying or selling a home. Real estate agents must reach out to these families and simply & effectively explain a complex housing market to them.
The agents at Blake Cory Home Selling team have their clients best interest in mind. They want to make the process as easy as possible, while still providing that human touch. This is what guarantees their existence and your peace of mind. Want the best of both worlds? Pick out your dream home at www.searchcaliforniahomes.net and let the Blake Cory Team do the rest.