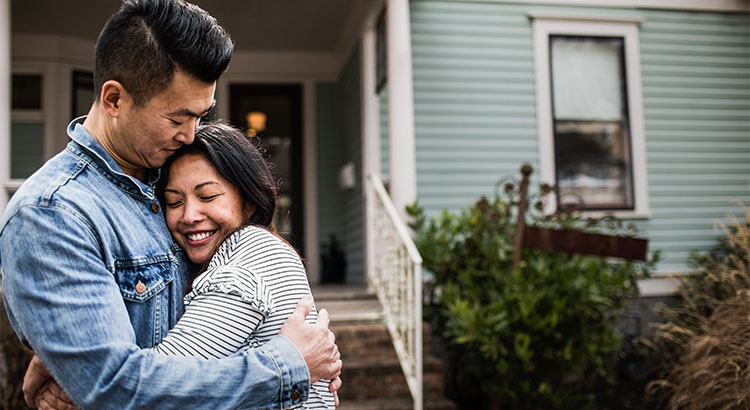 The Aspiring Home Buyers Profile from the National Association of Realtors (NAR) found that the American public is still somewhat confused about what is required to qualify for a home mortgage loan in today's housing market. The results of the survey show that the main reason why non-homeowners do not own their own homes is because they believe that they cannot afford them.
This brings us to two major misconceptions that we want to address today.
1. Down Payment
A recent survey by Laurel Road, the National Online Lender and FDIC-Insured Bank, revealed that consumers overestimate the down payment funds needed to qualify for a home loan.
According to the survey, 53% of Americans who plan to buy or have already bought a home admit to their concerns about their ability to afford a home in the current market. In addition, 46% are currently unfamiliar with alternative down payment options, and 46% of millennials do not feel confident that they could currently afford a 20% down payment.
What these people don't realize, however, is that there are many loans written with down payments of 3% or less.
According to the National Association of Realtors' latest Realtors Confidence Index, 61% of first-time homebuyers purchased their homes with down payments below 6% from October 2018 through November 2019.
Many potential homebuyers believe that a 20% down payment is necessary to buy a home and have disqualified themselves without even trying. The median down payment for all buyers in 2019 was just 10% and that percentage drops to 6% for first-time buyers.
Zillow Senior Economist Aaron Terrazas' recent comments shed light on why buyer demand has remained strong,
"Looking into 2018, rent is expected to continue gaining. More widespread rent growth could mean home buying demands stay high, as renters who can afford it move away from the unpredictability of rising rents toward the relative stability of a monthly mortgage payment instead."
It's no surprise that with rents rising, more and more first-time buyers are taking advantage of low-down-payment mortgage options to secure their monthly housing costs and finally attain their dream homes. Many renters may actually be able to enter the housing market sooner than they ever imagined with new programs that have emerged allowing less cash out of pocket.
2. FICO®Scores
Recently, it was reported that 24% of renters believe they need a 780-800 credit score to be considered for a mortgage. The reality is they are misinformed!
Only 25% of the Americans have a FICO® Score between 740 and 800. Here is the breakdown according to Experian:
16% Very Poor (300-579)
18% Fair (580-669)
21% Good (670-739)
25% Very Good (740-799)
20% Exceptional (800-850)
Randy Hopper, Senior Vice President of Mortgage Lending for Navy Federal Credit Union said,
"Just because you have a low credit score doesn't mean you can't purchase a home. There are a lot of options out there for consumers with low FICO® scores,"
There are many programs available with low or no credit score requirement. The Federal Housing Administration (FHA) now requires a minimum FICO® score of 580 if you want to qualify for the low down payment advantage. The US Department of Agriculture (USDA) does not set a minimum credit score requirement, but most lenders require a score of at least 640. Veterans Affairs (VA) loans have no credit score requirement.
As you can see, none of them are above 700!
It is true that the average FICO® score for all closed loans in January was 726, but there are plenty of people taking advantage of the low credit score requirements. Here is the average FICO® Score of closed FHA Loans since April 2012 according to Ellie Mae: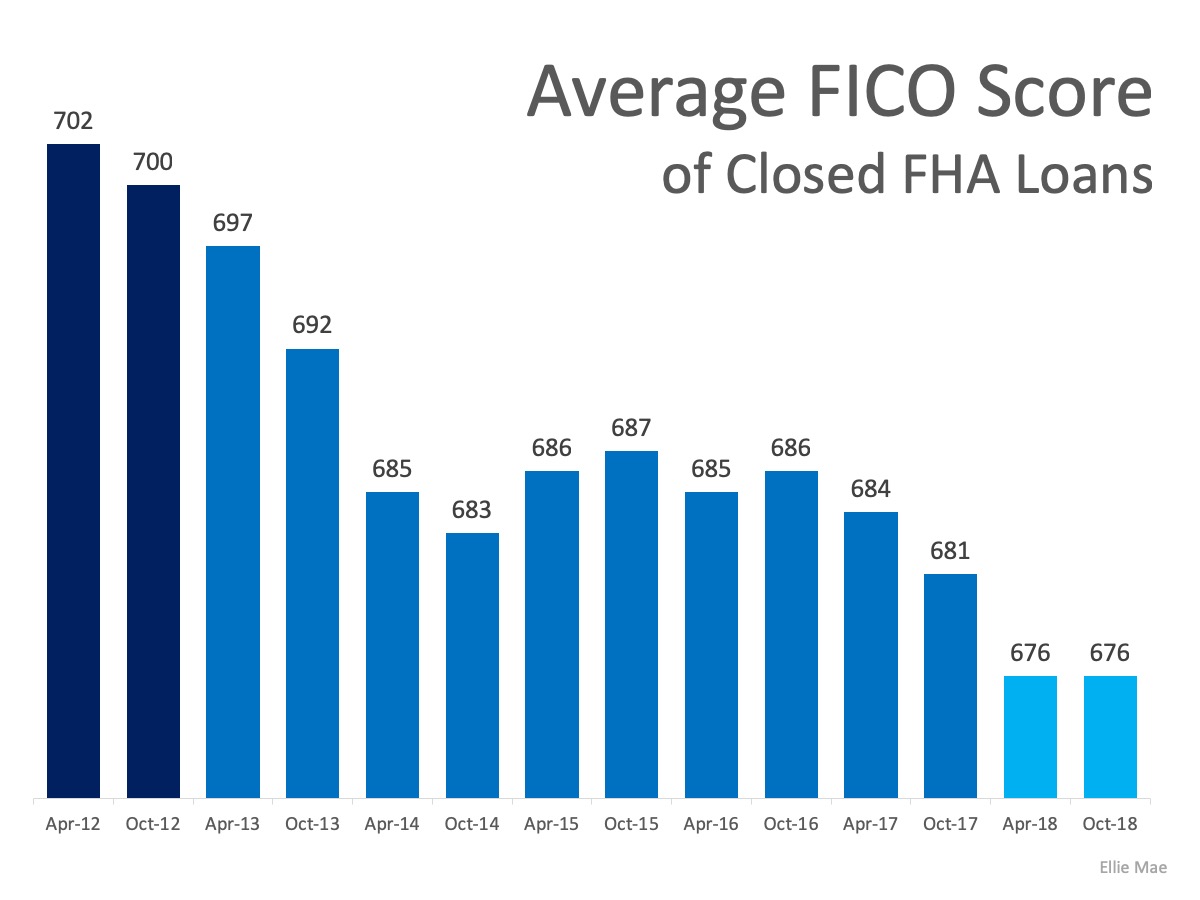 As you can see, that number has been dropping for the last seven years. As a matter of fact, the average FHA Purchase FICO® Score reported in January 2019 was 675!
One of the challenges is that Americans are unsure about their credit score. They just assume that it is too low to qualify and do not double check. Credit.com confirmed that only 57% of individuals sought out their credit score at least once last year.
FICO® reported,
"Since October 2009, the average year-over-year FICO® Score has steadily and consistently increased, from a low of 686 in 2009 to the latest high of 704 as of 2018."
Here is the increase in the average US FICO® Score over the same period of time as the graph earlier.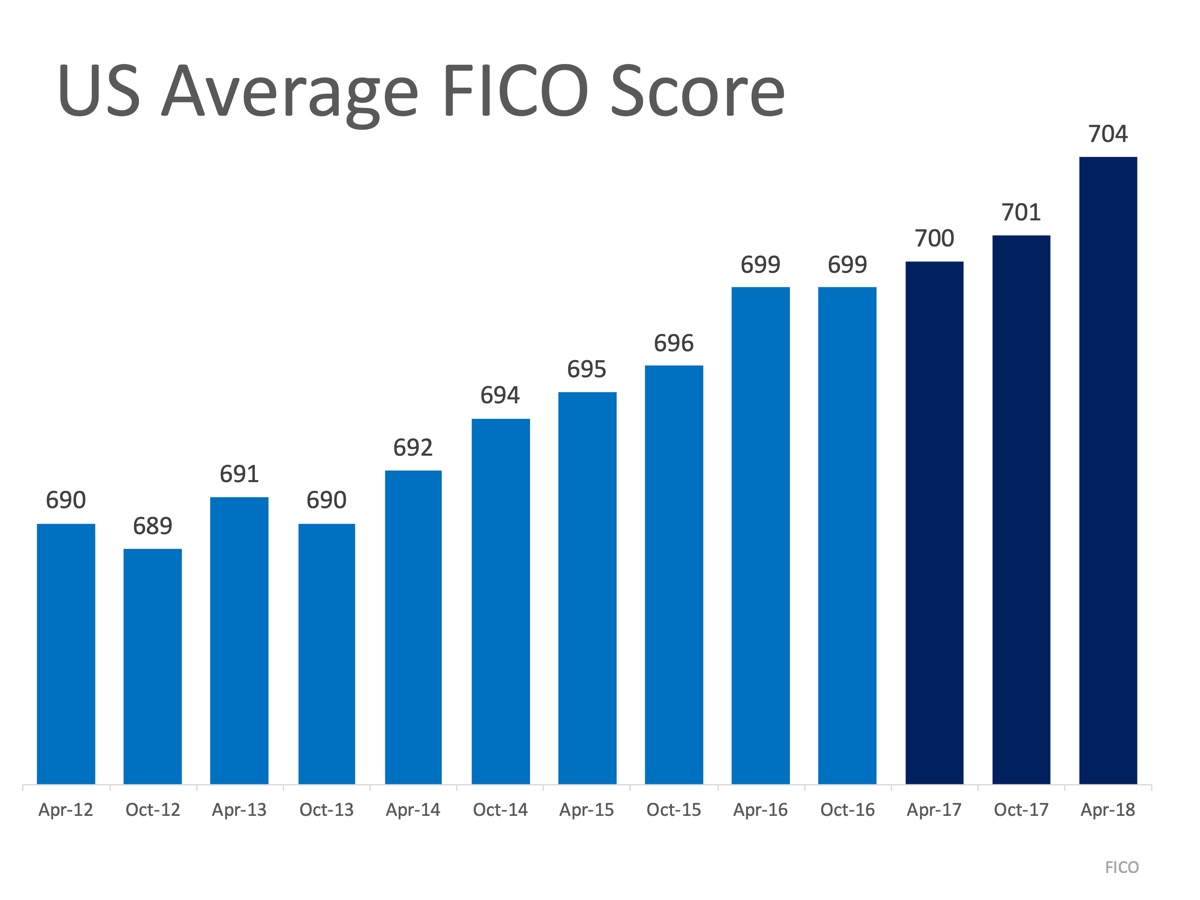 Bottom Line
Let's get together to help you set a path to reach your dream! If you are looking to buy your first home with little-to-no money down, get in contact with us to schedule a consultation with a down payment counselor. Our experts have the tools on hand to match you with credit repair services (or DIY if you're looking to save!). If you're looking to buy a home in the near future and are looking for high quality research materials check this out. We've gone the extra mile and partnered with realty experts all over california to compile the ultimate guide for purchasing your first home, with little to no money down!